HKS most famous mid entry series coilovers, the Max IV GT, will be completely faced out by the newer Hipermax S series coilovers.  With a successful 9 year run of the max 4 gt series, HKS is finally upgrading their coilover technology using the latest in research and performance gather from years at the track with feedback from professional and amateur drivers alike. 
All three existing MAX IV GT Series have been combined into one ultimate coilover called the Hipermax S.  These new series coilovers, features all new coilover technology such as the dual PVS, improved shape of needle jet, improved bump stop rubber, and low friction components.  And best of all, their warranty has been bumped from 1 year to 3 years for the Hipermax S series due to optimized internal parts and quality control improvements. 
So what makes these coilovers so great?  
Single Tube Damper Design
The new HIPERMAX S series continue to employing the single tube structure.
The advantage of this structure is to be able to provide the gas and oil chamber separately, and then it allows to use of a large diameter piston. As a result, a quality and stable damping force is gained.Inverted Shock Absorber (Strut)・Large lateral forces are spread over a larger area increasing rigidity under high loads or with larger wheels
Damper is attached to body side reducing un-sprung weight for improved handling
The Pre-load Valve System, introduced in the previous MAX IV GT 20 Spec, created a remarkable difference to handling performance. This has been further refined to introduce "Dual PVS".
High speed damping is reduced while keeping unnecessary movement to a minimum.
Compared to without PVS, shaft extension is more responsive improving tire contact with the ground.
Under fast compression, damping force rises quickly to absorb the impact energy from bumps.
Initial damping is effective under rebound to reduce bouncing and fast stabilization.
Dual PVS damping force characteristic graph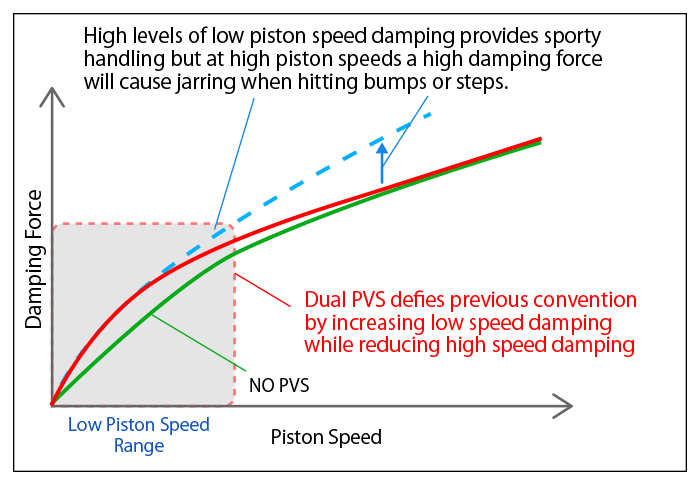 WR Needle: Wide range damping force adjustment mechanism
The improved shape of the needle expands the oil relief channel. Each step of the 30 step adjustment is now more prominent. Having softer adjustment options gives more options for street driving.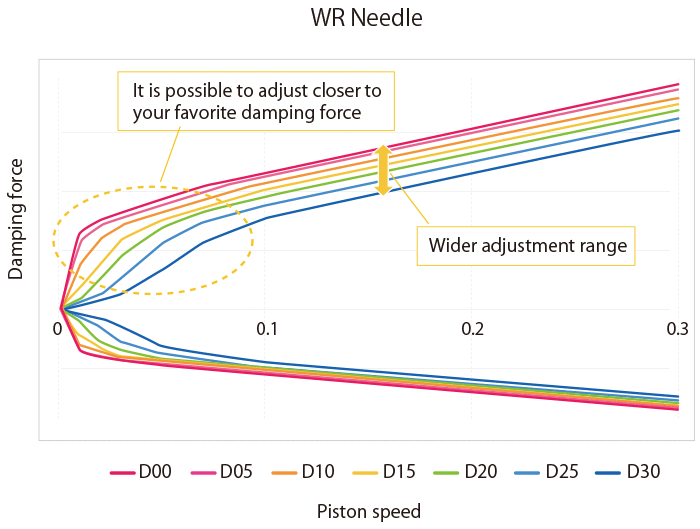 ADVANCED BUMP RUBBER(Evolution of Bump stop rubber)
HKS studied the use of bump stop rubber during the development of HIPERMAX MAXIV GT Spec-A.
Research on how to make effective use of the bump stop rubber and created a new concept which is incorporated as part of the suspension setup.
Spec-A bump stop rubbers are longer and softer than conventional items. They make contact earlier in the stroke and gradually increase load. This creates a smooth action which prevents sudden changes in movement and shock.
For HIPERMAX S, a further improved "ADVANCED BUMP RUBBER" was developed which pursues further softness and also shorter variations deliver a wide range of options for a variety of cars delivers a natural and smooth experience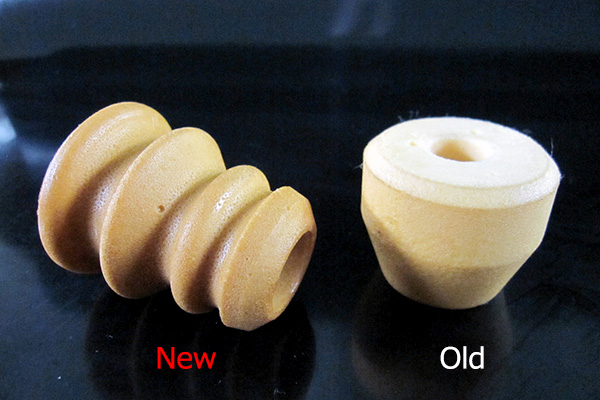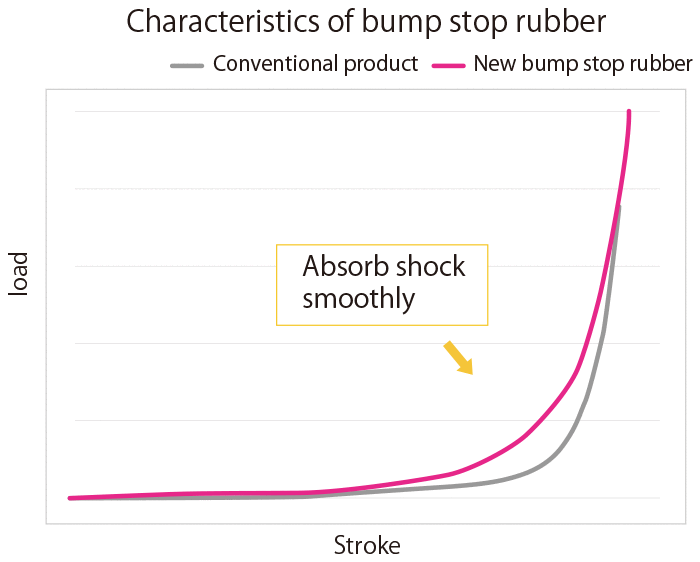 HKS previously introduced SNOW EDITION versions to combat corrosion head on. The result of this development was PNE coating delivering 5x better durability compared to standard galvanizing.
Strengthened Rubber Upper Mount
Strengthened rubber upper mount is able to absorb small body vibrations whilst tightening up the mount over stock. Revised cross sectional design and material composition balance comfort and performance.
Kodawari - is a term in Japanese language that describes obsession for perfection and attention to details in devotion to make the best product.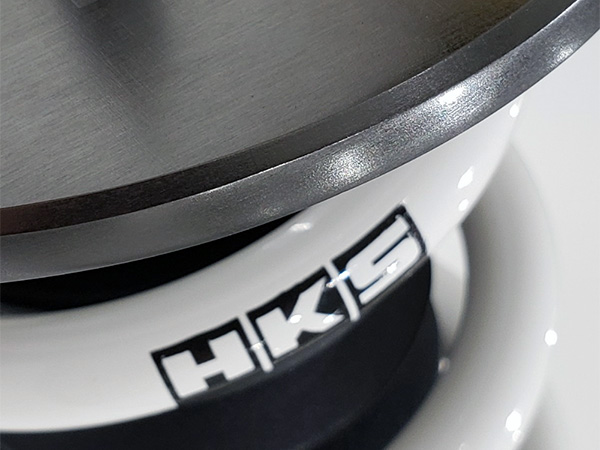 Chamfered Upper Plate
The aluminum top mount is chamfered by machining to enhance the beauty of the product.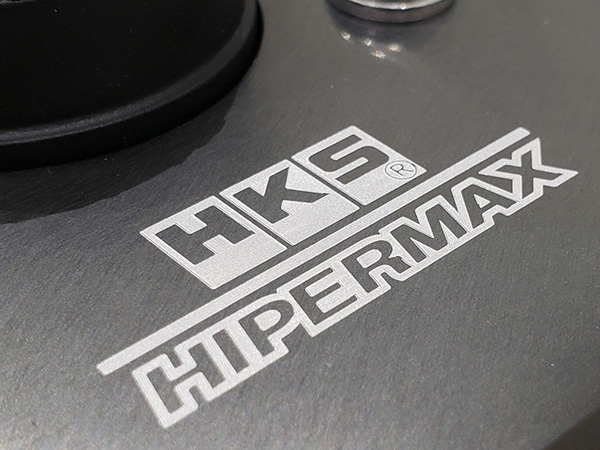 Laser Etching
Delivering detail and quality which was not previously available through previous printing methods
The "KODAWARI" of 3 years warranty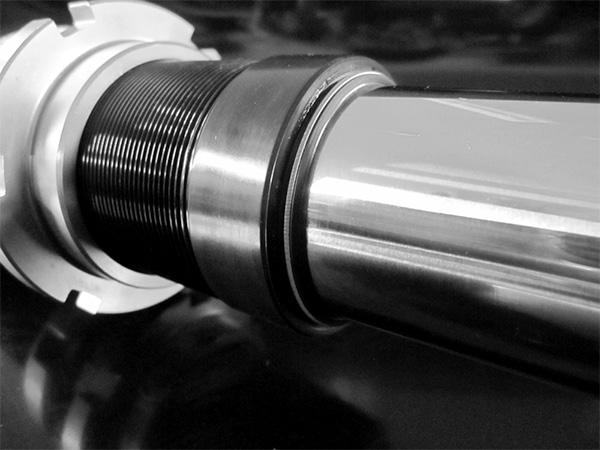 Peace of mind with 3 years warranty
The internal structure of the HIPERMAX IV GT series has been reviewed in HIPERMAX S to deliver a 3 years warranty over the existing 1year.
Extensive in house durability testing and development has resulted in improved correlation between test bench and real road data and in-house manufacturing allows for quality control of all components which provides the necessary evidence to deliver the 3 years warranty with confidence.
The basis of this longer warranty started with the HIPERMAX G range then S-STYLE introduced a different diameter cylinder and now for the first time, the 3 years is offered on a sports type suspension.