The incredibly sturdy PERRIN Strut Tower Brace prevents strut tower flex and makes a beautiful accent for your engine compartment.  This is the carbon fiber version which is lighter and stronger than the aluminum version.  The ends are still aluminum to keep cost down.
Note: 2022+ GR86/ BRZ must remove engine cover for fitment.  Works with Perrin Engine Cover.
Application:
Toyota GR86 2022+
Toyota 86 2017-2021
Scion FR-S 2013-2016
Subaru BRZ 2013+
Features:
Carbon Fiber Construction
100% Carbon Hollow Bar for Light Weight
30 Minute Installation Estimate
Beautiful upgrade to spruce up your engine bay!
Another solid product from Perrin Performance. Perrin's Front Strut Brace fits perfectly and is made very sturdy, yet lightweight!
In addition, the strut bar itself comes in a WIDE range of colors, so you can really dial in your theme
Just some tips:
1) Make sure to use a 1/4 13mm socket. I was trying to use a 3/8 13mm socket, and it was just too large for the M8 nuts
2) I chose NOT to bend my AC line to fit. Simply install the hose protector and install the bar
Lastly this bar CANNOT be used with OEM Engine Cover. So you can either Remove the Cover completely, OR you can purchase Perrin's engine cover which fits and clears nicely
Other that, very satisfied with the product from Perrin Performance!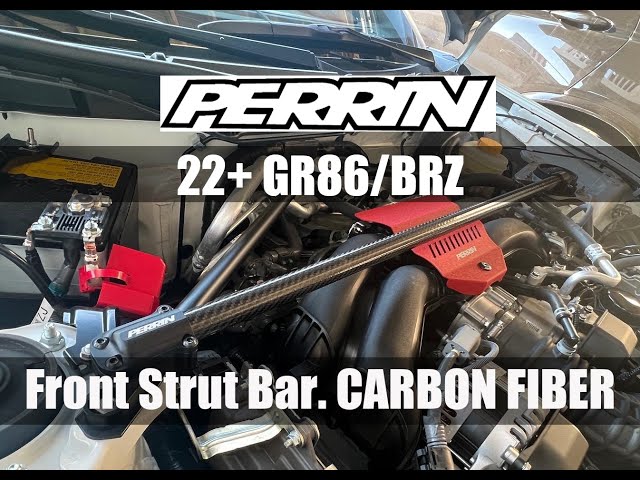 In stock, non special order items can be returned within 30 days of the product arriving to your house or place of work.
Returns will NOT be accepted on Clearance Items, Final Sales, Special Orders, Opened, Installed, Incomplete, or Otherwise Used Products. In order to initiate a return, an RMA number must be requested and approved via e-mail.
All returns will be subject to a 20% restocking fee minus complete shipping cost (roundtrip).

Any processed orders that have not shipped will incur a 6% cancelation refund fee unless the product was not available to ship within a timely manner. No fee will be incurred if used as store credit.

For complete details on our return policy, please see our Help and FAQ link under HELPFUL INFO.

INTERNATIONAL DUTIES AND TAXES
All international orders outside of the USA are subject to duties and taxes per your countries jurisdiction and determined by customs.
Kami Speed serves the right to ship using an alternative method if we see it fit, in order to expedite shipping and reduce your rate depending on product value.
Alert: ShopLock Protection Activated
This website does not allow visitors to copy text or images for their own personal or business use without prior permission. Future attempts to copy will be logged and you may be blocked from accessing the website.

If you would like to use the text or images found on this website on your website or blog, please contact the store owner using the button below to make a formal request for approval.
Contact Store Owner